ALEX ANSARY – NOVEMBER 25th, 2015



Meet Darrell Carter. Spiritual teacher, off gridder, disabled Vietnam veteran. He's also the latest victim of Costilla County's war on off grid living which has made national headlines in recent months

(

see links after article for the back story

).
Vietnam Veteran Darrell Carter sits behind his cabin in the woods of Costilla County where he came to live off grid in 2013.
The view of Mt. Blanca from Darrell's land at 9,000 feet in Costilla County.
On the morning of November 19th, 2015 (a week prior to Thanksgiving Day), Darrell Carter had an unwanted visit on his land located in the Sangre De Cristo Mountain range area. Costilla County code enforcers Colleen Romero and Cruz Soto arrived shortly after 10 AM and a day after the area's first major snow fall in which Darrell's truck was temporarily stuck in the driveway.
The new code enforcers cited Darrell for 'violating the land use code' serving him with a pink slip warning to leave in 10 days or receive a citation for court. However, Darrell's cabin was built in 1999 and came with the property which lists the cabin on the tax information associated with the land. The county has never had an issue with this 'grandfathered' cabin until Darrell became close friends and allies of several residents targeted by Costilla County.
Darrell had been known to visit the local county courthouse in support of Neale Taylor and Penny Taylor, a couple that was ordered to move everything off their property by county judge Kim Woods after they were successfully sued by Texan and BP employee Tim Leggett for blocking his pristine mountain view of Blanca with their structures and other trumped up violations. Tim Leggett can be seen in this video speaking in favor of new land use code changes at the planning commission in San Luis on September 9th.
On September 15th, 2015 (outside the county commissioners meeting), Costilla County sheriff's deputies can been seen violating the free speech and freedom of assembly when Neale Taylor is wrongfully arrested for saying "Fuck You" to Officer Rick Rodriquez. The county charged him with disorderly conduct but the court recently dropped the charges.
In the above video, officer Cruz Soto can be heard yelling twice at Neale Taylor to "TURN AROUND! TURN AROUND!" as officer Rick Rodriquez threatens to taser Neale is he did not comply with the commands immediately.
IS IT ILLEGAL TO SWEAR AT AN OFFICER IN COLORADO?
In 2011, the Denver Post reported:
Flipping the bird at a police officer or telling a cop to stick it where the sun don't shine is not the smartest thing to do, but it's legal.

In the last few weeks, two cases in the metro area demonstrate the First Amendment is alive and well in Colorado.

"Simply telling a cop to go screw himself is not illegal," said Denver lawyer David Lane. "The First Amendment lives in a rough neighborhood and if you can't stand the neighborhood move to China … or somewhere the First Amendment does not exist."
Boulder County recently paid a $20,000 settlement to Bob McIntosh for false arrest, arrested under circumstances similar to Neale Taylor's.
Arresting officers have not been held accountable despite media reports by Colorado Public Radio. See his arrest and release here.
From there, other residents were threatened with arrest if they did not move down the street. Iraq Veteran Jeremy Costley was heard yelling back "My brothers and sisters died for all yal!" and making several references to his constitutional rights. Watch Video 1 and watch Video 2 of the September 15th incident.
In fact, Darrell had a few words on the ongoing corruption in Costilla County last month during a community clean up on Penny and Neale's property. It's more than likely that the visit he received was retaliation for his statements as well as his associations.
CODE ENFORCERS TRESPASS ON PRIVATE PROPERTY TO ISSUE 'WARNING'
Colleen Romero and Cruz Soto illegally demanded that cameras be turned off at the 9/9/15 Planning Commission and were never held accountable for their violation of the Colorado Sunshine Act. Photo taken 20 minutes in from the youtube video: Residents Speak Out at Costilla County Planning Commission (length: 90 minutes). These two officers (alone) have displaced hundreds of residents including reporting off grid parents to Child Protective Services (CPS).
According to Darrell, the officers trespassed onto his land without a warrant which he told the officers they needed. Colleen Romero then stepped further onto the property to take pictures with her camera. Darrell explains the encounter in the video provided below
The visiting officers may have located Darrell Carter using clues from his youtube 'Man on the Mountain Series' (a video series about his spiritual and Gnostic beliefs) or simply from using available county records listing Darrell's address.
The pink slip (featured below) lists 5 'supposed violations' of the county's new draconian land use code written specifically to drive out large numbers of residents, in particular the poorest residents least able to afford the thousands now needed to afford the permits and required hook ups to the grid. Chloe Everhart was also ticketed for illegal camping on her own land. Hyrum Jensen, her husband, is a Afghan war veteran. That couple has also been displaced.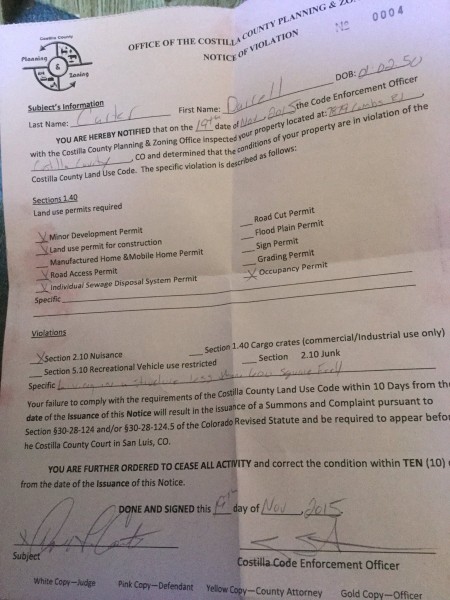 Photograph of Darrell's 'Notice of Violation, giving Darrell until just after Thanksgiving to leave the land or face a citation for court.
Costilla County recently made headlines (and blogs across the web) when they began pushing new residents off their land citing 'land use code violations'. However, the county is currently enforcing new codes (illegally and unconstitutionally) that have not officially been voted on. Other codes were passed (quietly) in 2013 limiting RV use but heavy handed enforcement did not begin to take off until this year.
This took many new residents by surprise including (many elderly) that were under the impression they they were operating within the laws of the land. After all, this has traditionally been one of the best counties in the country to go off grid due to lax building codes and regulations. Residents previously has the luxury to be left alone in peace in their trailers, RVs, and using compost toilets without harassment.
Now all residents without a structure of 600 feet or more are being visited and ticketed including those without septic systems. All RV dwellers are being driven out now that camping permits are not longer being issued by the Planning and Zoning department formerly headed by Matthew Valdez (who recently resigned following a rumor of a drug charge in the area). To date, higher courts nor the ACLU have stepped in to intervene in the county.
Darrell's 144 sq ft. cabin was build in 1999 and came with the property valued at over 30K.
Is this Racially Motivated?
There are a number of glaring holes in the county's argument (to the press) that these changes are being done to protect the land and new residents from "harsh winters". KOAA News quoted Cruz Soto as saying:
"I think it's a safety issue," he said. "There's lots of families who live out of small campers and you can see how cold it gets."
In reality, new residents have had to face the brunt of the coldness of the local San Luis rage with (some) Hispanic locals in San Luis (with very close ties to the local government) stating, trolling, and blogging that ALL the new white (and non-Hispanic) off grid residents are a threat. They seem to agree that these news land use code changes are needed to run off new land owners from staying on their land after purchasing it. Instead of being concerned for people's safety during the winter, former residents are now moving their trailers or RVs in some areas already experiencing snow on the ground and more expected to be on the way as soon as tomorrow.
Other claims have been made that all the land purchased online is 'stolen land' that belongs to the locals that initially received large Spanish land grants which led the early settlers to found San Luis, Colorado.
The race obsession can partially be traced to Taylor Ranch case which awarded access to a 1800's land grant to people who could prove their ancestors were residents when the land grant was made.
Others have heard rumors that La Raza intends to take back the mountain and prairie from the whites (with force) during a SHTF situation or other event. Other locals like former sheriff Pete Espinoza recently visited a planning commission meeting to display a sign calling the new residents "scumbags." During that same confrontation, another local resident threatened John Spounias, telling him that if this was the old days, they would run out the newcomers with guns and they would do it again if they could away with it.
Former Costilla County Sheriff holds a sign called new residents "scumbags."
The area is now richer with racial tensions between aspects of the local Spanish population and the new non-hispanic residents which have been targeted.
Blogger Devon Pena is one of several that has labeled the off grid community as a sovereign white supremacist movement, striking tear intounknowing readers and other locals. La Sierra author Maria Martinez has also slandered the new residents claiming the locals were called "Dirty Mexicans".
Devon is a professor at the University of Washingon's Department of Anthropology. According to Devon, the DHS report on domestic sovereign terrorists directly applies to new Costilla county residents and his ongoing "expose" at EJFOOD.BLOGSPOT.COM features his misleading and slanderous commentary.
Is this behavior in line with the code of ethics at the University of Washington? The author of this post believes we may need to find that out ourselves.
Devon Pena owns 181 acres of land in Costilla County. He is a faculty member of the University of Washington.
The views and ideas presented by these authors appears consistent with La Raza theology as they promote the narrative that that new residents have no right to live in peace off grid because all the land belongs to them and all new residents are "invading" desert dwellers, a term coined by Maria Martinez. Others closely associated with the local government has made statements that new residents need to "live as humans, not as pigs." Watch that video here.
The following snapshot from the 'San Luis Valley Just Us' group (now closed) highlights some of the racial overtones that Devon Pena has directed at the new residents. (However you may join the San Luis Valley Off Grid Freedom Movement as a alternative).
Devon Pena (see here) can be seen marginalizing the entire off grid community as his racial enemies and a threat to Costilla County.
In the video below, Devon Pena can be heard chastising Akeem Charles, a new off grid resident who happens to be black. Devon can be heard suggesting to Akeem that if he "was black but trying to be white, that's not going to work either".
Devon has also used other terms like "token black guy" to describe Michael Morris (a former off grid resident and well spoken freedom rights activist).
Devon and other San Luis residents have made the false statement that most of the new residents are here to grow marijuana and steal water from their property line, the Rio Grande River, the town well or other places. In a community where a lot of marijuana has been grown historically (prior to legalization in the state of Colorado), there is clear resentment and fear that new residents are moving in their position in the pot market among other concerns.
Costilla County Undersheriff Andrew Espinoza proposed a increased police budget to include riot control devices to manage what he claimed was an increase in crime. Costilla County Sheriff's Department was unable to provide the Denver Post with local crime stats.
Many local residents have chosen to not speak out concerning what the county has done to them out of fear of retaliation from the county or (potential) cartel operators in the valley.
There are an estimated 800 people believed to be living 'off grid' in Costilla County (in a county of an estimated 3600) and in the last several months, hundreds have been cited by the above mentioned officers who have told both new and old residents that remaining on their land will result in a criminal change that could result in jail time. Others have reported that they are now threatening to put a lien on the land if the occupants do not leave after 45 days. Many of these residents are having to move in the cold and most of them feel this is being done to them simply because of their non-hispanic status. Manny is one of many residents who has been displaced from his own land.
How you can help
Please share this article with veterans organizations, human rights organizations, senators, congressmen, the media and even the ACLU. The more exposure we give the story the better. To date, professional legal assistance has not become available nor have higher courts gotten involved (yet) to hold Costilla County (and their code enforcers) accountable for their criminal actions and (possibly) racist motivations for harassing innocent men, women and children who migrated here to live free of government intrusion.
Darrell is being forced from his land within days of Thanksgiving. To contact Darrell directly to provide legal assistance or interview him, please email contact@thedailymatrix.com.
Additional Links for this developing story in Costilla County:
What is Happening in Costilla County?